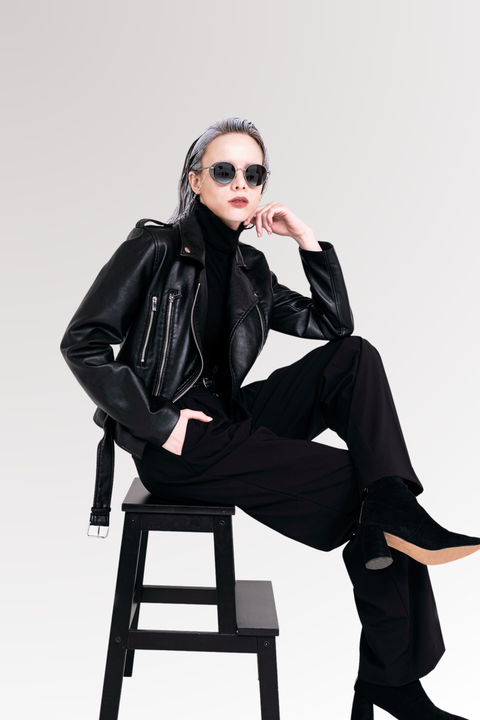 Rev up your style quotient with our Moto Chic Style Women's Biker Jacket, the perfect blend of edgy attitude and timeless elegance. Crafted to elevate your fashion game, this jacket is designed to exude confidence and individuality. Whether you're hitting the open road or conquering the city streets, this jacket is your ultimate companion.
 Premium Quality Leather: Crafted from high-grade, supple leather, our biker jacket ensures durability and comfort, adapting to your body over time for a personalized fit.
Iconic Design Elements: Featuring a classic asymmetrical front zipper, zippered cuffs, and moto-inspired lapels, this jacket pays homage to the timeless biker aesthetic.
Versatile Styling: From casual outings to edgy evening looks, this jacket effortlessly transitions, pairing perfectly with jeans, dresses, or skirts.
Thoughtful Details: Quilted panels on the shoulders and back add depth and texture, while multiple zippered pockets offer practicality without compromising style.
Interior Comfort: A silky-smooth lining ensures comfort and ease of movement, making this jacket a joy to wear all day and night.
Statement Piece: The Moto Chic Style Biker Jacket is not just clothing; it's a statement piece that speaks volumes about your fearless attitude and distinctive taste.
Year-Round Appeal: Designed to be worn across seasons, layer it over a cozy sweater in winter or throw it on over a tank top during spring - its versatility knows no bounds.
Sizes for All: Available in a wide range of sizes, we're committed to ensuring that every woman can embrace the power of moto style.
Experience the thrill of the open road without leaving your fashion sensibilities behind. Our Moto Chic Style Women's Biker Jacket is where rugged meets refined, creating an ensemble that's uniquely yours. Elevate your wardrobe today and make a statement that's impossible to ignore.